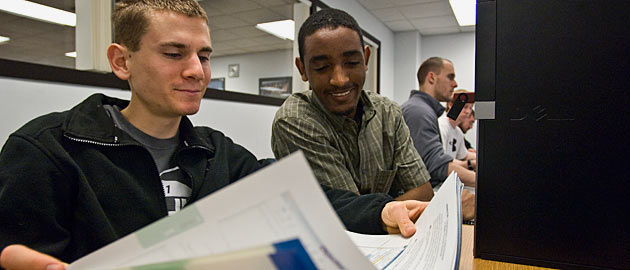 Bachelor's Degrees
With a committed, innovative faculty who emphasize the importance of hands-on learning opportunities, you will excel in a wide-range of fields — including architecture, aviation, automotive, dental hygiene, fashion design, health care, mortuary science, electronic systems technologies, and information systems technologies.
The program will challenge you — not only with the curriculum but in also discovering your own boundaries. You learn from licensed architects who encourage creativity and research, and foster serving learning and community involvement. Program graduates can pursue their careers and also working towards a master's degree in the Master of Architecture program.
We offer a challenging and comprehensive curriculum that will give you a solid foundation of knowledge, experience and skill. You will have access to more than 90 modern training vehicles, paid internships, direct industry connections, and a faculty committed to student learning. Graduates of the nationally recognized program are highly recruited by major corporations, suppliers and government agencies for positions in technical product support, management, business operations, training and service engineering. The program is among the tops in the nation, achieving master certification by the National Institute for Automotive Service Excellence (ASE).
The major prepares students for work in managerial roles at airports, airlines, aviation manufacturers, general aviation companies, and within government agencies. For students with previous technical training in fields including aviation maintenance, aviation flight, avionics technology, air traffic control, and aircraft operation support, the program curriculum provides a bridge to career advancement.
The program has the nation's only dedicated helicopter training laboratory, as well as a state-of-the-art test cell that features four separate cells for training on high-powered turbine and reciprocating engines. With specializations that include aircraft maintenance, helicopter maintenance, and avionics, you will be in high demand as an aircraft technician, flight systems specialist, or in engineering or other leadership positions.
With the oldest dental hygiene school in Illinois, we offer the only bachelor's degree program for this major in the state. With hands-on experiences in the on-site clinic and in off-site rotations, you will develop the professional skills to provide care to the community.
The program is always changing to match fast-paced technological advances by offering an excellent application-oriented curriculum. The degree will provide a solid fundamental knowledge of electronic theory capped with a wide variety of advanced technical expertise. You have a range of options, including automation and control, biomedical technology, and networking & telecommunications, or you can specialize in electronic systems management.
A career in the fast-paced world of fashion industry awaits you with a four-year degree program that features hands-on instruction from faculty. The program is the only one at a public university in Illinois with specializations in fashion design, fashion merchandising and fashion stylist. You will receive a strong foundation through classes that include textiles, fashion history, fashion motivation, and fashion product analysis.
This program at various off-campus locations is for students who have fire service-related work experience and/or technical certification training from military schools, technical institutes, or industry training programs.
Here you have health care career opportunities in health management or health policy for work in hospitals, physician practices, nursing homes, rural health centers, and pharmaceutical companies. Students enrolled in a BS in Health Care Management can apply for a minor in Health Information & Informatics Management and a minor in Long Term Care Administration in the School of Health Sciences.
The curriculum is designed with many hands-on computer activities. When you graduate you will have strong computer applications skills as well as an understanding of the principles of organizations and systems.
You will be part of a highly charged and energetic atmosphere where you follow graduates who are part of top interior design and architecture firms throughout the country. Fully accredited by the Council for Interior Design Accreditation (CIDA), you are prepared for careers in commercial, corporate, public, hospitality, retail, health care, institutional and residential design.
With the only accredited bachelor degree program of its kind in Illinois, you will gain the insight and skills to enter the profession, with an emphasis on funeral practice regulations, grief counseling and funeral home management. The curriculum focuses on a funeral director's responsibilities in helping families during their greatest time of need.
You will receive training for a variety of diagnostic imaging exams in a program that provides the only bachelor's degree in this field in Illinois. The nation's increasing health care needs will put a premium on program specialties in radiation therapy, medical diagnostic sonography (ultrasound) or magnetic resonance imaging/computed tomography (MRI/CT) each with its own accreditation, educational and clinical training requirements.
If you already have a technical skill set, this degree can open the door to leadership opportunities. A customized academic plan will reflect your career goals and includes access to more than 60 minors, as well as a specialization in professional construction management. The program curriculum prepares technically skilled individuals for career expansion and advancement.