Making the 'friendly skies' a little less expensive to navigate
November 14, 2018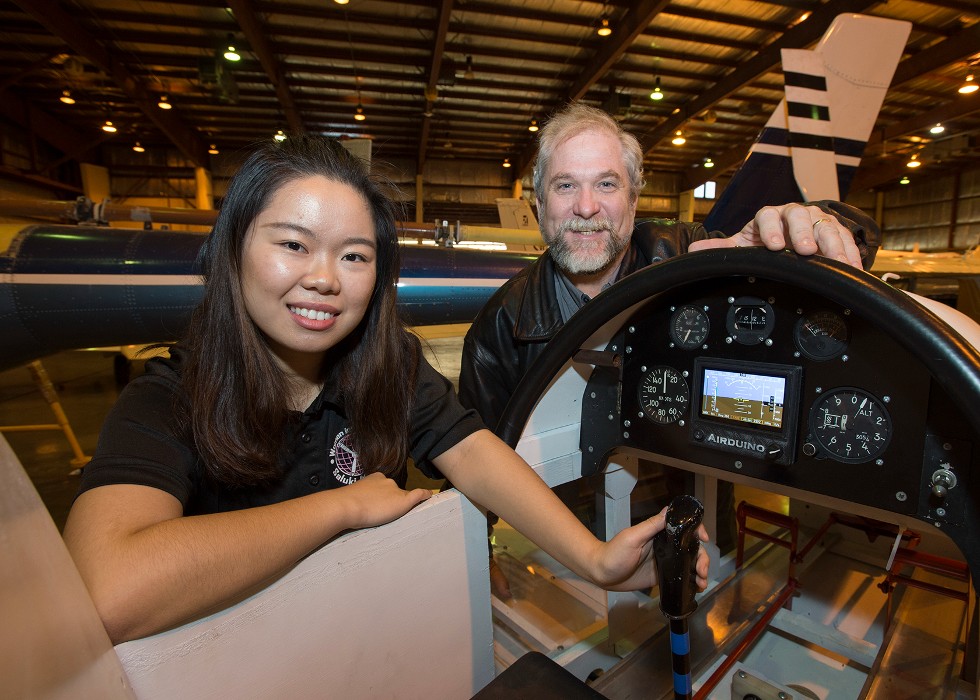 Grace Chen, left, and Don Morris, an assistant professor in the aviation technologies program, show off the glass cockpit primary flight display they are working on. The project could cut costs for the glass cockpit for experimental aircraft pilots as much as 90 percent. (Photo by Russell Bailey)
Flying planes can be an expensive pastime.
Don Morris, an assistant professor in the aviation technologies program, is looking to shave the cost just a bit for pilots who fly experimental aircraft. With the assistance of Grace Chen, a senior in aviation technologies and aviation management from China, he is working to cut the cost of a glass cockpit primary flight display by as much as 90 percent.
Once finished, they plan to share the instructions and materials on how to build and install the non-commercial glass cockpit with the click of a mouse.
Use will be only for experimental planes
"We all have things we want to do with our lives," Morris said. "The problem is that if you want to go out and fly, you can easily drop $20,000 to $100,000 in the cockpit."
Basic instruments in an aircraft do not allow pilots to know their location in respect to other objects that are on earth or in the air, Morris noted.  Advanced glass cockpits, GPS and synthetic vision all help pilots to fly safely.
For experimental planes, the cost for glass cockpits similar to the one Morris is building with a 4.3- inch diagonal color screen can start at about $2,000. Morris anticipates that his can be built with off the shelf components that cost about $200.
Morris emphasizes the plans will not be for commercial applications and are aimed at pilots who own experimental aircraft. He hopes to finish by the end of the semester and launch as an open source project.
Morris said he views the project is an example where research and creative activity meet each other, and sharing the information as a "cooperative enhancement of ideas." Morris showed the glass cockpit prototype at the Aircraft Owners and Pilots Association Fly-In at SIU Carbondale and Southern Illinois Airport in early October.
Work on writing the manual underway
Chen is photographing the construction process and in the process of writing the manual. The goal is to have it completed by the end of the semester. She will graduate in May. She recently completed her FAA Airframe and Powerplant certification and is now working toward her helicopter license.
"I think this project is really meaningful," she said. "People may die because they could not afford to buy super-expensive instruments. If we can create one and make it more functional, it can save a lot of people's lives."
Pilots will be able to go to a website that Morris is developing to download the program file, software and instructions for building the glass cockpit. They will be able code information specific to their plane into the program to customize it to their own aircraft, Morris said.
"If you follow the instructions you should be able to create one of these," he said.
Has considered the idea for a few years
Morris, who has a computer programming background as well as avionics experience, said he has been toying with the idea of building a less expensive glass cockpit for a few years.
The idea took hold last fall after an incident near Atlanta, Georgia. Morris, while flying with his son, found himself in heavy clouds and low on fuel. He utilized a free app on his phone to be able to safely land his experimental aircraft.
"That was a big kickstart, as was Grace coming to me and saying she was interested in doing research," he said.
Hoping for collaboration once the idea is presented
Introducing glass cockpit through open source will allow others to collaborate and enhance his work, Morris said.
"Hopefully this will be something that people will jump onto the bandwagon and make it better," Morris said. "Our goal is to push this to the top of the hill and get enough people who see it and believe 'that's cool, but wouldn't it be better if ….'"
The glass cockpit Morris is designing is expandable, allowing for the addition of GPS and other technologies, he said.
"We will stay involved with the project, but our goal is to release it out into the world and then let it do what it is going to do and go where it needs to go."