Alumni award-winner believes in giving back
By Pete Rosenbery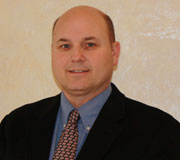 Dan Sherman believes in giving back.
From recruiting students and helping strengthen an endowed scholarship, to seeking industry gift-in-kind donations and helping new students as they move into residence halls, Sherman considers it is an honor to be active in the nationally recognized automotive program.
"To me, it is a way I can pay respect to those before me who made the automotive program what it is today. I feel like I am giving back some of what so many individuals gave to me, and many others, over the decades the program has existed," he said. Sherman also serves as co-chair of the program's National Automotive Technology Advisory Board.
Sherman, the 2014-2015 College of Applied Sciences and Arts Distinguished Alumni Award recipient, has worked for Mitsubishi Motors North America for more than 24 years – ever since graduating from SIU. He graduated in 1990 with a degree in advanced technical studies, which is what the automotive program fell under at the time
As a senior specialist for product and quality support the past eight years, Sherman is a technical liaison between the automaker's sales division in Cypress, Calif., and the company's manufacturing division in Normal, where he is located. Among his many responsibilities, Sherman monitors the quality of vehicles shipped from the Normal plant to several countries and works with sales, manufacturing and Mitsubishi Motors Corp. in Japan to identify and prioritize potential improvements. Because of his technical background gained while at SIU, Sherman also lends troubleshooting assistance to the company's Techline staff on difficult-to-diagnose vehicles.   
A graduate of Mahomet-Seymour High School, Sherman first learned of SIU's automotive program from his high school auto shop teacher, Tom Lea, who encouraged students to attend college for additional training. Sherman said he was excited to learn there were people in the automotive industry working at a technical level at manufacturers such as General Motors, Ford and Chrysler.
He transferred to SIU after earning an associate degree at Parkland College. Transferring to SIU also allowed him to be closer to his future wife, Mary Kae, who was attending SIU in biology and who is an alumna. The couple's oldest son, James, is a sophomore at SIU majoring in electrical engineering.
The technological knowledge that students gain blended with "a common sense approach are qualities that make SIU automotive graduates so desirable in the industry," Sherman said.
"Graduates have the ability to converse with engineers at a technical level, they have hands-on skills to disassemble components and troubleshoot problems and in addition, they have personable skills to present this knowledge to dealership staff, in a training environment or even at a one-on-one level with a customer. It's a rare and special set of skills in the workplace," he said.
There are several reasons behind the program's success, Sherman said. He first credits faculty and staff.
"Each and every one of them, past and present, have worked hard to ensure the students are prepared to be successful in the workforce after graduation," he said.
The automotive and aviation programs' strong connections to industries have result in essential state-of-the-industry donations, Sherman said. 
"We have many graduates in the industry who are in positions to give back to SIU, either through personal donations or inspiring their companies to donate. It's great to see those alumni giving back to the program where they came from," he said. "I try to convey this message to the current students as well. They may not realize it now, but sooner than they think they will have the opportunity to give back to SIU."
Sherman, along with several other SIU alumni who work at Mitsubishi, donated funds to strengthen the Edward Wright Memorial Scholarship. Wright, an alumnus who hired Sherman at Mitsubishi, included an endowment to benefit SIU automotive students in his estate. The endowment supports two scholarships for automotive students in Wright's memory.