Automotive program is an extension of Seargent's life
April 17, 2019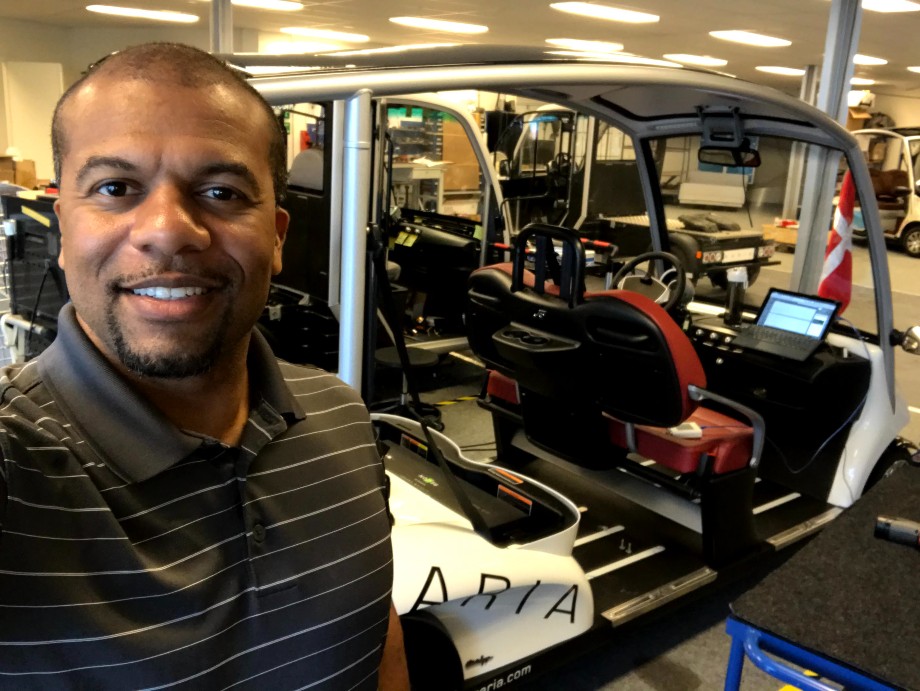 Building on a strong foundation – James L. Seargent emphasizes the importance of alumni continuing to carry forward automotive technology program's legacy. (Photo provided)
By Pete Rosenbery

To James L. Seargent, everything in life is about purpose.
For the 2003 automotive technology alumnus, a central part of his purpose is to carry forward the legacy and foundation that prior automotive program alumni provided him. Seargent, the North American technical director for Garia Inc., a Scandinavian low speed vehicle and golf car manufacturer, connected with students earlier this semester during a visit.
"It's been a good opportunity for me to speak with everyone here at TEC, more so for my benefit to learn," said Seargent, who is a member of the program's National Advisory Board. "I saw so many students like me who didn't really know what was available for careers in automotive or what they are capable of, so every chance I get, I bring something new and exciting back to the program."
Acting upon students' requests to have additional opportunities with electrical technology, Seargent set out to help fill that need. Earlier this semester, students began working with Garia Inc., in research and development of improved lithium batteries for use in the company's vehicles and to update the Denmark-based company's technical service manuals for dealers throughout the world.
Wants opportunities for other automotive students to succeed 
Seargent wants to make sure students get the same opportunities he received. He recalls sitting in a high school automotive class in Madisonville, Kentucky, not due to his passion for automotive technology but more because his friends were also there, when program director Mike Behrmann came for a recruiting visit. Seargent quickly learned that automotive technology "was more than just working on the car down the street."
Seargent soon attended night school in Kentucky in preparation for John A. Logan College, where he received an associate's degree in automotive collision and then transferred to SIU Carbondale.
What he found after he arrived was what he could become. He recalls David Gilbert, an associate professor, telling him that once Seargent left the program, he would never have as much knowledge, tools and time to learn his craft.
Feeling that there was much to learn just being on campus, Seargent became a student worker for the program.  
"I cannot tell you where I would be if I didn't find the automotive program," Seargent said.
A "constant supporter" of the program
Before coming to Garia Inc. in late 2017, Seargent spent 13 years working with Robert Bosch LLC, including in a role as senior customer marketing analyst. Seargent was instrumental in the April 2015 naming of the program's Bosch Automotive Parts Center in the Transportation Education Center.
Behrmann notes that Seargent is not the only alumnus who is heavily involved in the program. On-campus students and instructors will spend a minimum of 16 to 20 hours a week together, where students and faculty get to know each other well. Those tight bonds continue once students graduate with alumni coming back to assist the program.
Close-knit relationships that are developed early on continue
When students gather at the start of a semester Behrmann discusses the program's expectations. He emphasizes to students that the value of their SIU degree is not based on what they do with their degree, but what those students who come after them are able to achieve.
"It's up to all of us, as SIU graduates, to ensure that the future SIU graduates are better than what we were," he said.
A passing of the torch
Students receive a similar sentiment as they prepare to graduate; it is an admonition that many, including Seargent, carry with them. Behrmann reminds the new graduates of the alumni who came back and worked with them and supported the program through donations, faculty-related projects and internships.
"It's up to them now to ensure that the legacy and tradition of this program continues on," Behrmann said.
Latest venture is part of Seargent's purpose
Seargent said Bosch was a great company to work for; however, after re-evaluating his day-to-day activities, he realized he was no longer aligning with his purpose – to be impactful in the world of mobility.
The owner of BreeZ Motorsports a company dedicated to providing an aftermarket solution for electric vehicles, or EVs, and a 2013 HSAX club champion, Seargent said he became interested in Garia's development of electric vehicles utilizing CAN bus communication in conjunction with lithium batteries. 
SIU is integral part of Seargent's family
Seargent has his biological family and his SIU Carbondale family.
"The automotive technology program for me is an extension of my life; it's my family," he said. "This program allowed the ability that I have to shine. I could run fast and jump high, but the intellectual component of what I have was nurtured here at SIU. This is part of me."