Kraus followed his curiosity and passion into solid architecture career
November 14, 2018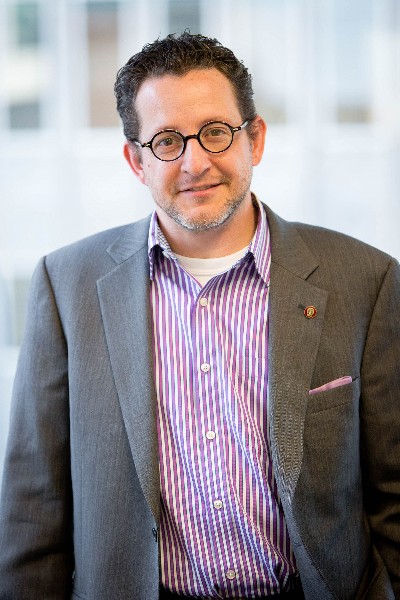 An infatuation with architecture at an early age, a genuine curiosity about how things work, and traveling to construction sites with his father while growing up in central Illinois all helped Shannon Kraus toward his career path.
Kraus, a 1995 graduate in architecture is the college's 2019 Alumni of the Year recipient and will be honored during Honors Day ceremonies on April 6. He is executive vice president, principal and board director of HKS, Inc, a 1400 person global architecture firm.
Kraus "has achieved more in his career than many of us achieve in a lifetime," John K. Dobbins, interim director of School of Architecture, wrote in his nomination letter.
Has worked with HKS, Inc. since 2002
Kraus leads HKS's East Coast Practice, which consists of more than 240 employees in seven offices across the eastern part of the country. He is also global director for the group comprised of the company's Health, Government and Education sector work.
His focus has been on leading a design team to help shape the health of communities, as he is now with a project in Cairo, Egypt. This passion is reflected in a 2017 TEDx talk where Kraus looked at the role design plays in addressing community health and challenges to access and quality of health care.
The company's architectural design work includes major projects all over the world, including football stadiums for the Minnesota Vikings, Dallas Cowboys and Los Angeles Rams; health systems including Cleveland Clinic, Mayo Clinic and Kaiser Health, and several hotel chains.
Kraus has served as lead designer and senior planner for many projects both domestic and abroad, including:
Ahuja Medical Center, Cleveland, Ohio.
Hadassah Medical Center, Jerusalem, Israel.
University of Connecticut Health Center, Dempsey Tower, Farmington, Connecticut.
Palmetto Health Baptist Parkridge Hospital, Irmo, South Carolina.
National Taiwan University Cancer Center, Taipei, Taiwan.
A national leader on several architectural boards
Kraus said in many ways his calling to serve on several national boards was instilled in him while he was at SIU, where he was national vice president of the American Institute of Architecture Students in 1995-96.
"From the time I was in school, I always felt it was a responsibility to get involved in how we shape our profession," he said.
Kraus' professional related volunteer work includes:
National vice president, American Institute of Architects (AIA).
Leading a "Shaping the Knowledge" initiative to help transform AIA's research programs, knowledge sharing and AIA governance issues.
Serving on the National Architectural Accrediting Board from 2012 to 2015, including president in 2014-15.
Serving on 14 accreditation visits in the United States and abroad over the last 20 years. He was the SIU School of Architecture's team observer during the initial accreditation visit in 2010.
Publishing more than 20 articles with a focus in two main areas: health care design and the internship/licensure process for young architects.
"All of the initiatives have been important to me and all of them have help to shape me as a professional," he said.
Supportive faculty aided his growth
Faculty helped many students tap into their own potential and empower them to leverage that potential while often "pushing us to go further to maximize a potential we may not even see in ourselves," Kraus said.
He noted Norm Lach, assistant professor, was among those offering early support, urging him to become nationally active in the AIAS organization. Kraus was the organization's national vice president for a year after graduating.
The lessons he learned while on campus resonate today, Kraus said.
"Empowering others is now at the core of how I lead and work today where much of my focus is on maximizing the potential of those I work with," he said. "It has been the foundation of my practice and the root of my success as an international architect working to shape communities and their health through design."
A 'social imperative to lift the communities we serve'
Kraus said service has always been a part of his DNA and that finding creative ways to give back to the community by participating in service projects is important. He created or helped launch two such programs:
A fellowship within HKS brings together emerging architects, students and community members to charrette on a community challenge that would benefit from design thinking. The service, now in its 11th year and in six locations nationally, is provided free to community leaders to help them advance a cause, issue or pressing need.
The Christopher Kelley Leadership Development Program also has a community focus. The program started locally in Washington, D.C. to honor a friend who died in 2012 at 39. Now, with the help of many others, the program is in several cities throughout the country with several hundred scholars completing the program.
SIU Carbondale 'empowered' Kraus
Kraus, who is from Decatur, said his interest in architecture was reinforced by his parents' belief in him and a "fantastic" vocational program and teacher at Decatur MacArthur High School. A first-generation college student, Kraus initially struggled on whether to study architecture, pursue a running career at a lower division university or community college, or enter the military. He also loved the outdoors.
SIU, however, was able to give what Kraus was seeking – a "wonderfully grounded architecture program known for its technical excellence in an amazing natural setting."
Students need to follow their passions and strengths
It is important for students to determine what they are the most passionate about and pursue an education that provides a foundation for learning, thinking and problem solving as a part of that passion, he said.
"At its core, this is what architectural education is about. It's a challenging pursuit, but immensely rewarding if your heart is fully into it," Kraus said. "The best part is that an architectural education can prepare you for hundreds of careers — so no matter how good you are at any one aspect, there is a career to be made by following your passions and strengths."
Profession can continue to evolve
While the profession has changed with technology, Kraus believes there hasn't been enough. He emphasizes that developing research to explore how design impacts human behavior and health has been slow.
"In particular, we need to push sustainability, resiliency and regenerative design further and faster than we are," he said. "We need to be more mindful of how our projects shape communities and how they can empower or limit social equity. And, perhaps most importantly, we need to be more diverse."
Continuing a love for exploring and running
Kraus was a walk-on for two years for the Salukis' cross-country and track teams before focusing exclusively on architecture his senior year.
He has completed more than 20 races that are marathon-length or longer in the last five years, including one that was 50 miles. He was running in the 2013 Boston Marathon about a one-quarter mile from the finish when the bombings that killed three and injured several hundred occurred.
Kraus and his wife, Heather, have twin 11-year-old sons.